Zara McFarlane: casi una diva
La última esperanza del jazz vocal es una británica de origen jamaicano fan de Nina Simone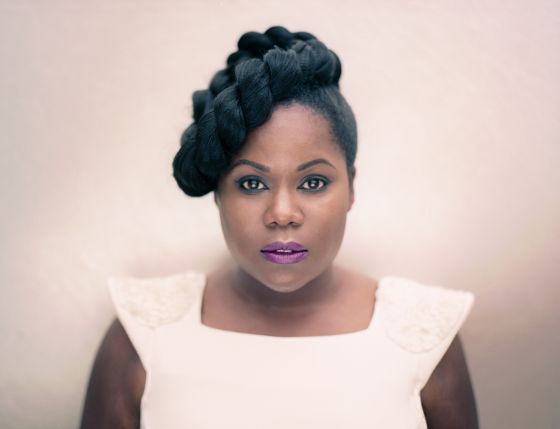 Zara McFarlane
Lo primero que llama la atención es su nombre: "Simplemente, a mis padres les gustaba su sonido". Luego, claro, la voz de Zara McFarlane: cálida y sensual, con un toque aniñado, que envuelve al oyente en un océano de sensaciones. Y tras ella, unas canciones escritas en primera persona del singular; las de su nuevo disco, If you knew her. Para buena parte de la crítica, lo mejor que ha dado el jazz & soul británico en décadas.
Nació hace 30 años en las cercanías de Londres, en el seno de una familia de origen jamaicano. Quizá porque "el reggae constituía el fondo musical sobre el que transcurría la vida familiar", su nuevo disco contiene una interpretación cuanto menos sorprendente de Police and thieves, la pieza de Junior Murvin que llevaron a la fama The Clash en 1977. Es una de las canciones de su vida, ya desde la infancia, antes de que la futura nueva reina del jazz británico debutara a los 14 años en un show televisivo con una imitación de la norteamericana Lauryn Hill. "Simplemente, no entiendo la vida sin cantar", dice.
Zara aprendió cuanto sabe por los libros: es diplomada en Música Popular y en Jazz e Improvisación por la Universidad de West London y el Guildhall School of Music & Drama, respectivamente. "Estudiar jazz es como aprender un idioma, uno debe familiarizarse con sus diferentes áreas, saber cómo suena el bebop, aprender las enseñanzas espirituales de John Coltrane... al final, lo que de verdad cuenta es la práctica; hablarlo".
If you knew her es su segundo disco tras Until tomorrow (2011). En su nueva aventura, los arreglos están hechos a medida para cada canción y los músicos varían de un tema a otro. "La idea de unidad viene de lo que cuento en las letras", dice. Para ello, ha vuelto a contar con la inestimable colaboración del productor y locutor radiofónico Gilles Peterson (4hero, Incognito, Terry Callier, Galliano…). "Su entusiasmo es algo contagioso", explica. "Este disco soy yo. Es mi voz y son mis canciones. Tratan de mí, de mis emociones, mi identidad, los cambios que ha habido en mi vida; hablan de mi familia y mi gente, de mi madre, mi hermana, mi tía… ellas han sido mi inspiración en este viaje en torno a mí misma".
Nada mejor que una canción hermosa y triste para poner al oyente en situación. Que su autora haya elegido la hipnótica Open heart para abrir el disco no es fruto de la casualidad. También ha sido el título elegido para el primer vídeoclip, en el que aparece la cantante luciendo sus mejores galas: "la imagen es muy importante para una cantante, y quien diga lo contrario es que no ha experimentado la diferencia que hay entre salir a escena vestida con un traje bonito o en shorts. Eso sí, fuera del escenario, voy siempre de sport".
Para la cantante, "comparado con el anterior, este es un disco más de jazz, con muchos temas de puro swing y alguna que otra locura". Entre las "locuras" destaca la subyugante Angie la la: siete minutos y 38 segundos de alta intensidad. Al oyente no le queda otro remedio que acompañar a la cantante en su viaje a alguna galaxia lejana siguiendo el rastro de su adorado Pharoah Sanders. Los discos del saxofonista de los años sesenta y setenta, en los que una sola interpretación daba para completar las dos caras, siguen constituyendo para la cantante una referencia ineludible. "Bueno, Pharoah tenía a [el vocalista] Leon Thomas cantando con él, yo tengo a Leron Thomas [el trompetista, de 35 años, colabora con McFarlane en el tema], que tampoco esta mal".
En el corazón de McFarlane no solo hay lugar para los saxofonistas furiosos como Sanders. "Mi primer modelo en el jazz fue Nina Simone, incluso antes de descubrir el jazz. Ya entonces adoraba su voz, sus canciones, incluso su imagen, aunque sus letras tengan casi siempre un tono dolorido que no me va demasiado". Con esto que la cantante ideal de Zara vendría a ser una mezcla entre Nina Simone, Sarah Vaughan y Billie Holiday: "no lo puedo remediar: me encantan las voces. Y tanto Sarah como Billie tenían aquellas extraordinarias voces…" que quede claro: Zara McFarlane tiene un corazón, además de una voz. Su argumento favorito como cantante y en la vida real, asegura, es el amor: "Yo no diría que If you knew her es un disco romántico pero sí que su tema central es el amor como instigador de la vida".
Una cosa queda clara: de divismo, por el momento, nada. "Diva, lo que se dice diva, no lo soy… todavía".
Chema García Martínez - EL PAÍS